Manager Panel | Rewards Budget
The Rewards Budget in the Manager Panel grants you access to insights on your organization's week-by-week spending, points to currency ratio, all users' points balance, and MORE!
To view your organization's reward budget:
Log in to Cooleaf to view, all of your organization's Reward Budget.
Then, select the blue circle icon at the bottom left-hand corner of your Cooleaf homepage.
Select Manager Panel.
Click Rewards Budget.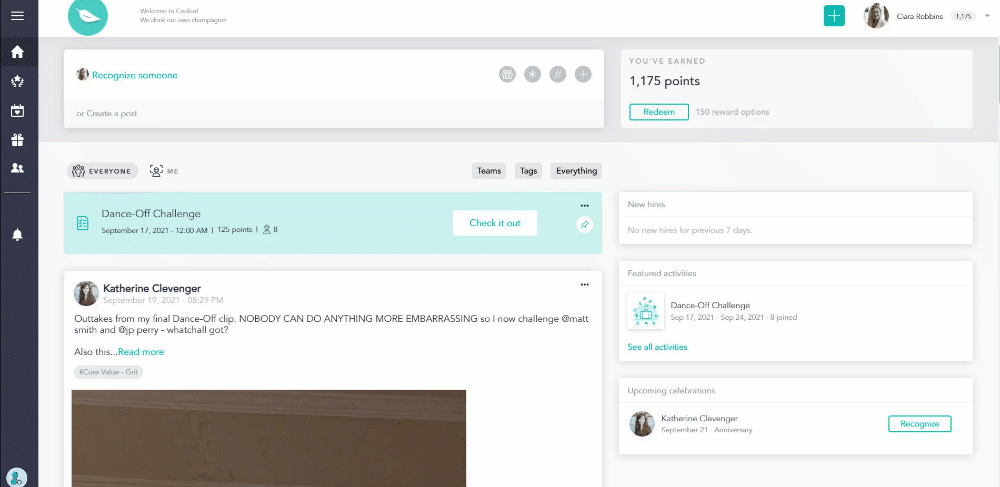 To view this information you will need Admin access.
Monitor Spending
Select the time frame you'd like to view in the top right-hand corner of the graph.
View the week-by-week spending and see the total budget amount purchased in the selected date range.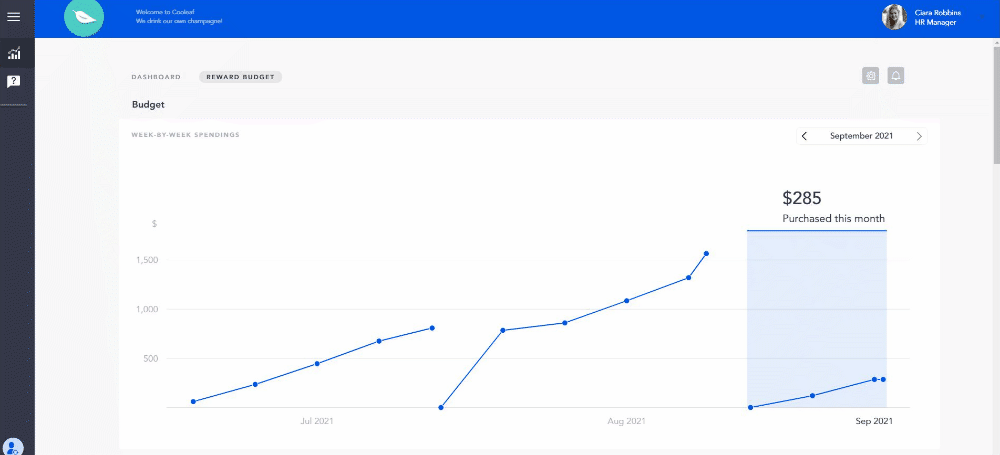 Check Out the Points to Currency Ratio
Most of our accounts run on a 10:1, points to currency ratio. However, this can vary based on currency conversion. To view the points to currency ratio scroll past the weekly spending graph and you will find this on the left-hand side of the page.

Review the Budget History
Curious to see what payments have been processed, or view your entire budget history?
Click show budget history to the right of the points to currency ratio box.
Access the total budget, purchases made, and total remaining budget by the month.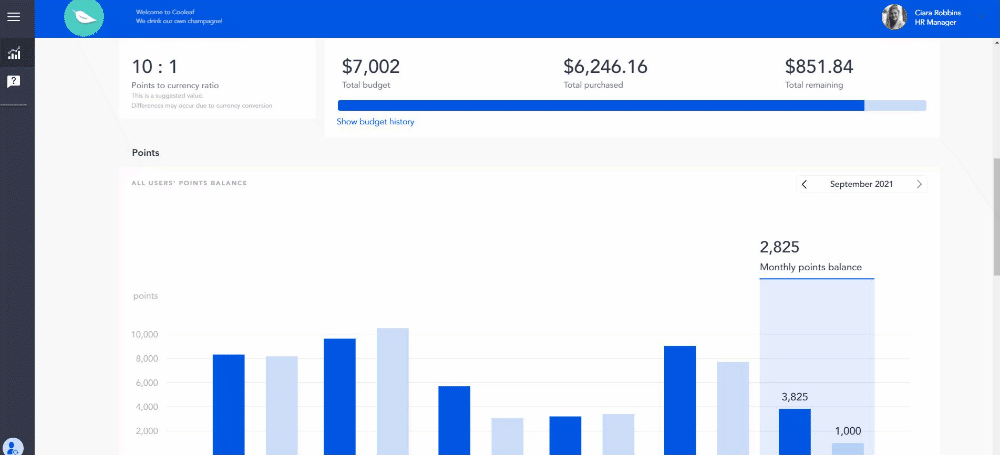 Explore the All User Points Balance Bar Graph
The All Users' Points Balance bar graph gives you an overview of all of the users' spendings, earnings, and remaining balances by the month.
To view this,
Select the month you'd like to compare on the top right-hand side of the graph.
View the total monthly points balance for each month.
View the monthly earnings (dark blue).
View the monthly spendings (light blue).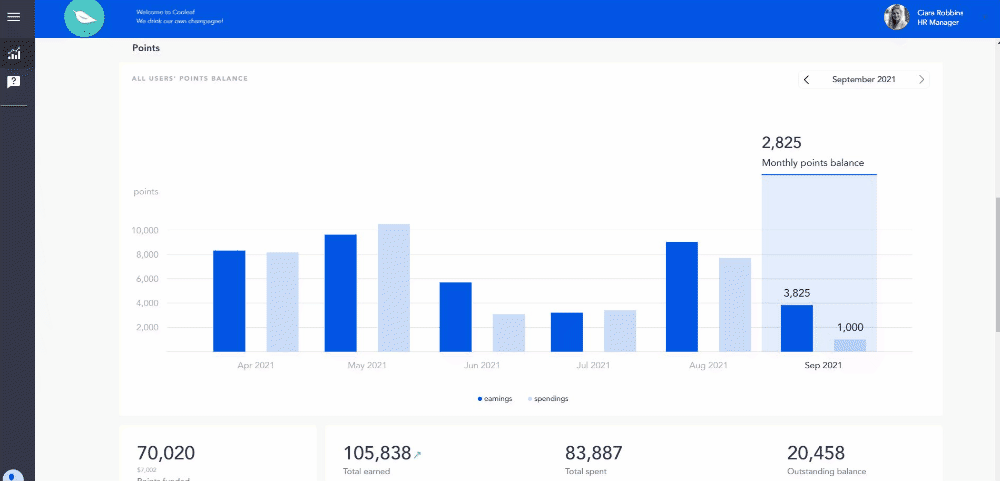 Strategize with the Points Funded Dashboard
The Points Funded Dashboard shows you the number of points your organization funds, for each user per month. In addition, it also highlights the total points earned, the amount total spent, and the outstanding balance for all users for all time.

Evaluate Awards Usage
See how your organization's awards are performing with the Awards Usage table! View each the points budget, points spent, and points balance for each of the Awards that are set up in your organization's account. Filter the data by selecting a time frame of your choosing on the top right-hand corner of the graph.

Want to review what rewards have been redeemed?
Under the Redemption Report, you are given a breakdown of the following:
The date and time the reward was redeemed,
Reward name,
Name of the user who redeemed the reward,
Total points paid for the reward by the user,
The amount the reward was listed at, and
The price in the currency selected.

---
---