Sending a Gift with Cooleaf Points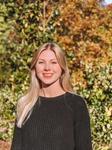 Updated by Sydney Davis
What's Gifting on Cooleaf?
On Cooleaf, you can use your points to redeem e-gift cards, branded apparel, charitable donations, experiences, or merchandise on the Rewards page as a reward for yourself, but you can also redeem your points to gift someone an e-gift card, branded apparel, merchandise, and experiences too.
How can I gift someone using Cooleaf points?
Start by heading to the Rewards page in Cooleaf.
From there, you'll see the usual catalog of options, where you can use your points to redeem and receive a reward for yourself.
To gift, look for items with the light green 'Giftable' label on their image.

You can also search for 'Giftable' options by using the filter on the right side of the screen marked 'Giftable'. Once you select that filter, your feed will show you gift options available send to someone.

Click the 'Redeem' button on the Reward option. You'll then be redirected to a new screen, where you can decide if you want the reward for yourself to 'Keep it' or if you'd like to send it to someone and 'Gift it'.
If you want to send this gift to someone, select 'Gift it'.
Once you select 'Gift it' you'll be asked whether the recipient is within the organization (a coworker or teammate on Cooleaf platform) or outside the organization (a friend or family member not in the platform).
If you select 'Inside the Organization', you can select a peer from the drop down list of users within Cooleaf. Start by typing the name of your colleague to send them this gift.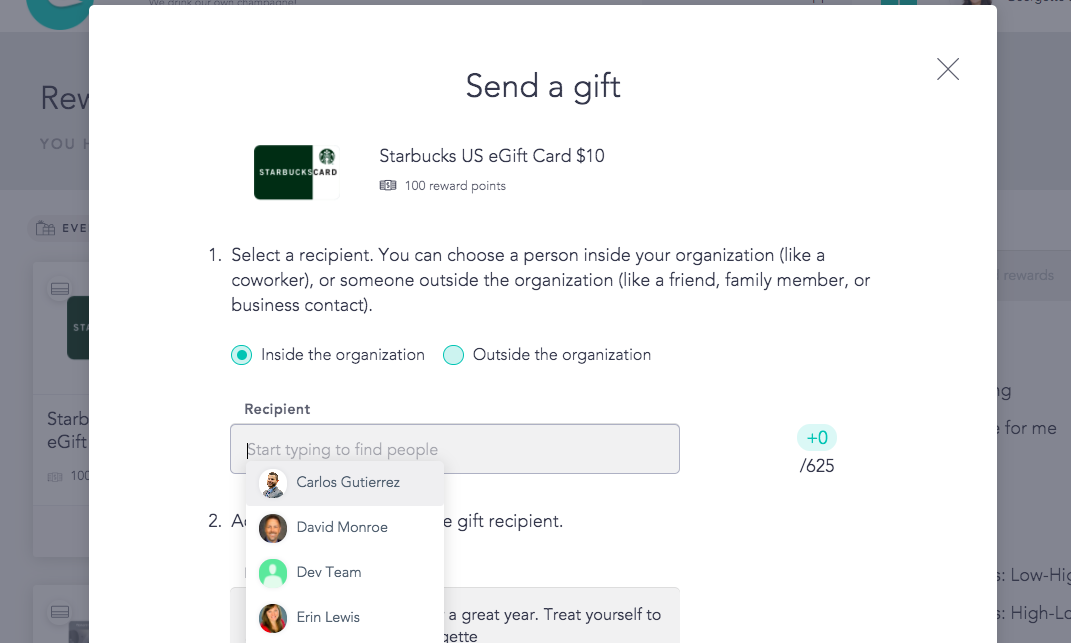 If it's 'Outside the organization' like a friend or family member, you'll need to provide their name and email.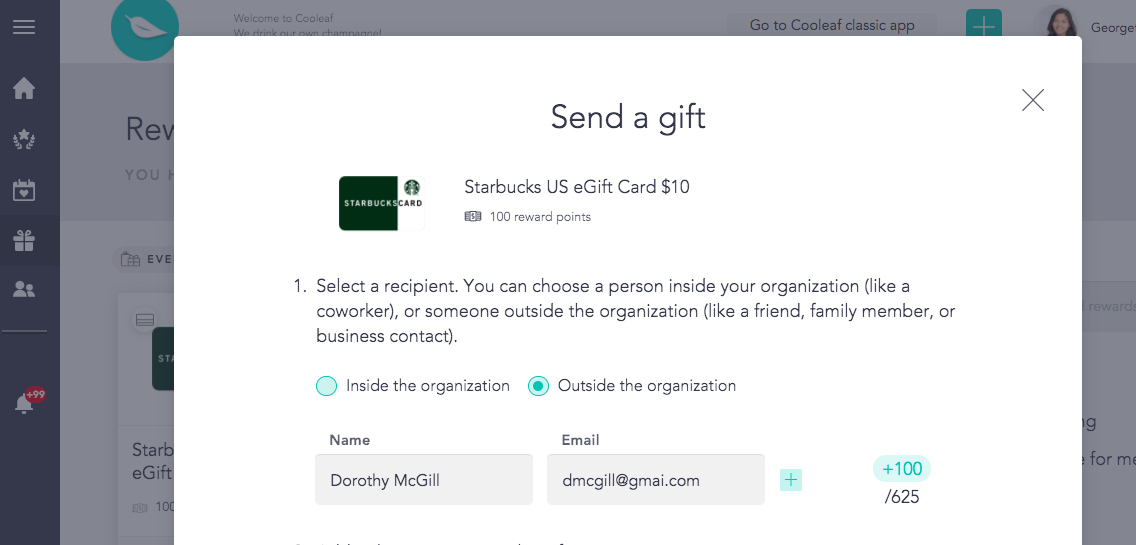 You can provide a personal message to send along with the gift. This will appear in the email that they receive.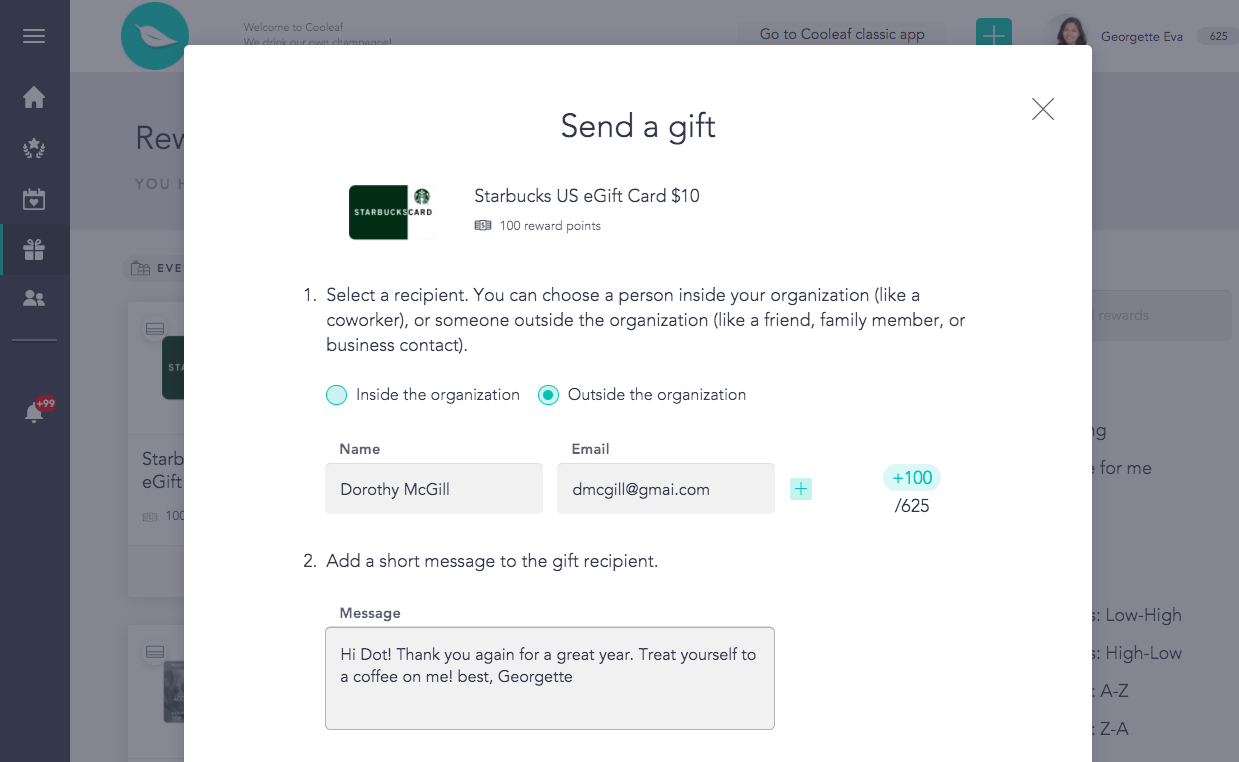 Then below, you'll see that this gift will come from your point balance or a selected points pool (if applicable).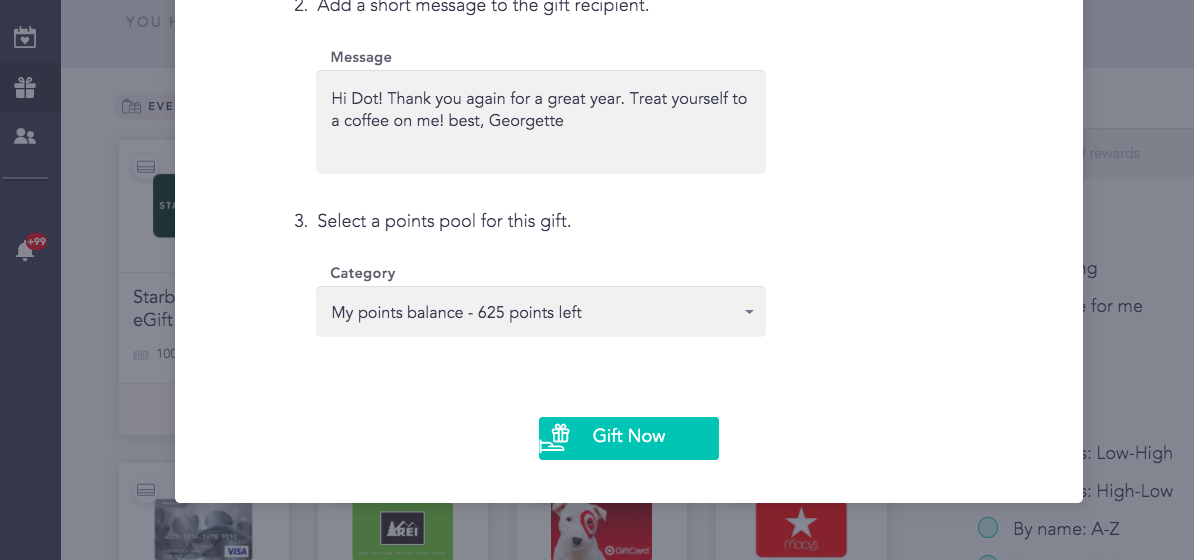 Please note, you'll also see the amount of points required to redeem and your point balance on the right hand side, near the recipient's name.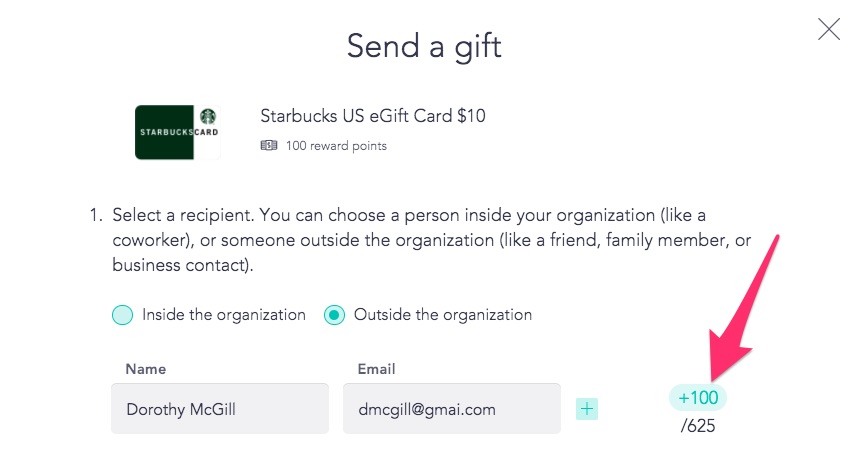 If you chose to send merchandise, team store items, or experiences to someone you will additionally need to give a shipping information to allow the gift to be sent.

Once you hit the 'Gift Now' button, a confirmation page will pop-up saying that the order was placed.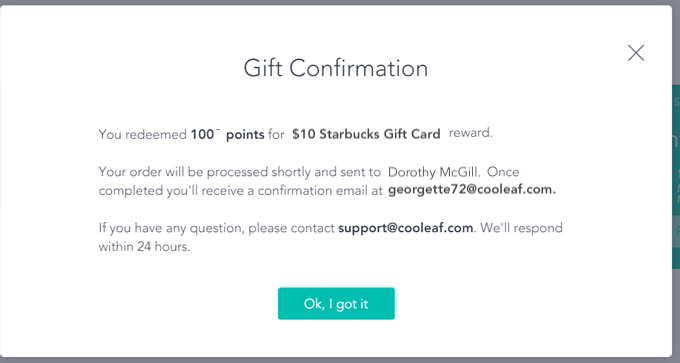 You'll receive a confirmation email.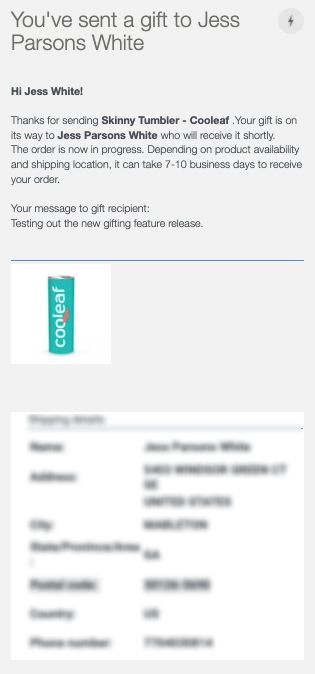 Your recipient will receive a message with the order details as well.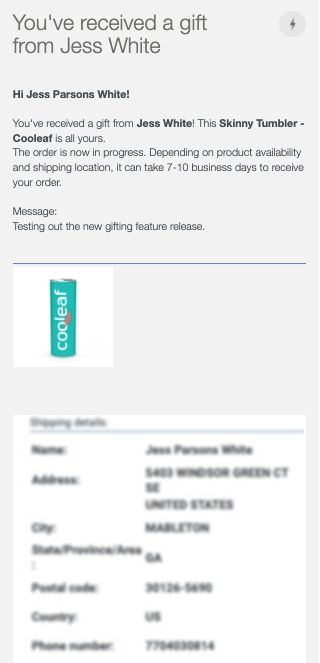 Watch us redeem our points for a gift to a coworker in this video
here
.
Give us feedback to help us improve! Rate this Article