Engaging Users through Main Feed Challenges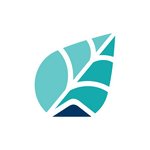 Updated by The Cooleaf Success Team
Main Feed Challenges is a way to engage with your Users by prompting them to comment on a post on the Cooleaf Main Feed! It's a simple, easy, and fun way to keep your users engaged with the Cooleaf platform! While Main Feed Challenges are meant for everyone, this is a quick and easy way to get your mobile-first employees involved in the conversation.
---
What is a Main Feed Challenge?
A Main Feed Challenge is a way for Admin to create a post with an open-ended question on your Cooleaf Main Feed prompting your User to engage! The purpose is to increase User engagement and satisfaction and foster a sense of community.
Types of content post
The content you choose to post is completely customizable to create a personable experience for your Users. You can choose to develop your own content or post the content developed by the Cooleaf Programming Team, which includes content posts such as:
#Motivational Monday - "It's Monday Motivation! Let's meditate on Teamwork. When you're working on a team, how do you like to personally receive feedback and critique?"
#Trivia Tuesday - "What year was our Company founded?" or "Which college did our CEO receieve an honorary Doctorate?"
#Wellness Wednesdays - "Intellectual wellness is another part of holistic health. How do you exercise your brain?"
#Water Cooler Wednesdays - "What's one thing from your childhood that kids today will never experience or understand?"
#Thriving Thursdays - "Thriving today can bring joy to ourselves in the future. What's one positive thing you are looking forward to?"
#Fri-Yay - "We have good news, it's Fri-yay! What is some good news you've received or heard about lately? Let's celebrate it together as a team!"
If you would like access to our full catalog of content developed by the Cooleaf Programming Team, please make this request with your designated Cooleaf Customer Success Manager!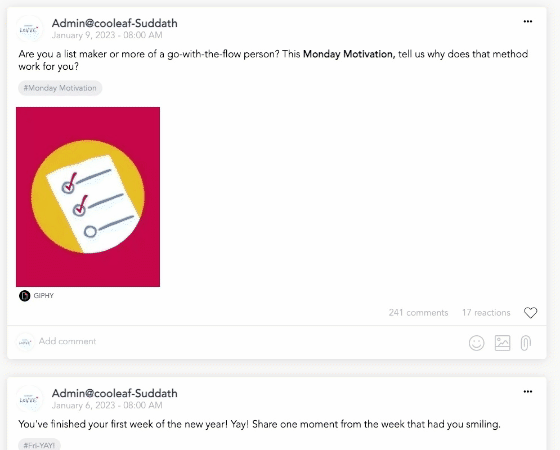 Don't limit your organization to just our Standard Main Feed Challenges! You can develop any type of content that will promote engagement among your employees. Be creative and unique, such as:
#Learn Something New - "What is one thing about (Insert internal software: Hubspot, Salesforce, Workday, etc), that you wish you knew sooner?"
#Fun Post Friday - "Share a GIF or meme that always makes you laugh" or "What are your fun weekend plans?"
#DE&I Weekly - "How did you educate yourself on (Insert Cultural Holiday) this week?" or "How did you create an inclusive work environment this month?"
How often to Posts Main Feed Prompts
The cadence in which you choose to post is completely up to you and your organization. You can choose to create a post every day, bi-weekly, once a week, or more! We recommend starting with at least one or two posts a week! You can make adjustments to your program by increasing or decreasing the number of posts you have weekly, bi-weekly, etc. as you feel necessary as your Users get familiar with this new activity.
How to manage all of these Posts
Use our handy dandy Scheduling Tool! 📆 The Scheduling Tool allows you to create a post that will publish in the future. This tool will help your overall platform management process, improve your efficiency so you have more time to push out great content, and develop a better connection with your organization in real-time! Learn more about the Scheduling Tool Here!
Rewarding Engagement through Main Feed Challenges
You can create an automated, hidden or unhidden, award in the HR panel to award Users for their engagement with your post! 🏆Making this award visible on the Awards page will allow your User to learn about Main Feed Challenges that your organization offers and how they can earn points by getting engaged with the post! Don't hesitate to connect with your designated Cooleaf CSM if you need assistance with this process.
Reasons to reward Main Feed Challenge post engagement
Rewarding a user for engaging with these Main Feed Challenges has several benefits:
Encourages participation: 🤝 Rewarding someone for engaging with a post can encourage others to participate and contribute to the discussion, leading to a more active and engaged community!
Shows appreciation: 👍 Rewarding someone for their comment acknowledges their contribution and shows that their thoughts and opinions are valued by your organization.
Increases engagement: 🙌 When individuals feel valued and appreciated, they are more likely to be engaged in the discussion and committed to contributing to the community, which would lead to more engagement in additional Cooleaf Activities like Events and Challenges.
Fosters a positive environment: 🤟 Rewarding individuals for their contributions can foster a positive and supportive environment where individuals feel encouraged to participate and share their thoughts.
Boosts morale: 👏 Recognition and reward can boost morale and increase overall job satisfaction, which can lead to better performance and a more motivated workforce.

---
Quick Steps to Setting up a Main Feed Challenge Award
Create an Interest Tag. Add your tag of choice to the "Organization specific" tags.
Create an Automated Award. Click on Rewards in the HR Panel, then select "New". You are able to select a Main Feed Challenge template from our Templates list or create your own. Most importantly, select the "With assigned tags" option when building out the Award, and select the tag that you created in step 1.
You are ready to start creating or Scheduling post!
Please reach out to your designated
Cooleaf Customer Success Manager
if you have questions about implementing this engagement initiative at your organization! 🎉
Give us feedback to help us improve! Rate this Article