How do I recognize someone?
Recognition doesn't just make you feel good – it also makes your whole company stronger! Giving and receiving recognition leads to happier and more collaborative teams.
There are many reasons why you might want to recognize a colleague, such as:
They taught you something new.
They volunteered for an extra assignment.
They took initiative on a new project.
They gave you helpful feedback.
When giving peer recognition, remember to be authentic and specific in your praise. You might be surprised to see how much of a difference it makes!
How do I recognize someone?
The 'Recognize' tool allows you to easily show your appreciation for your colleagues. We recommend using this tool whenever someone you work with goes above and beyond by closing a deal, leading a presentation, solving a tricky customer support issue, etc.
---
Click 'Recognize'
Start by clicking the 'recognize someone' button on the homepage.

Or, you can click the plus button [+] to access the recognition tool from any page within the site!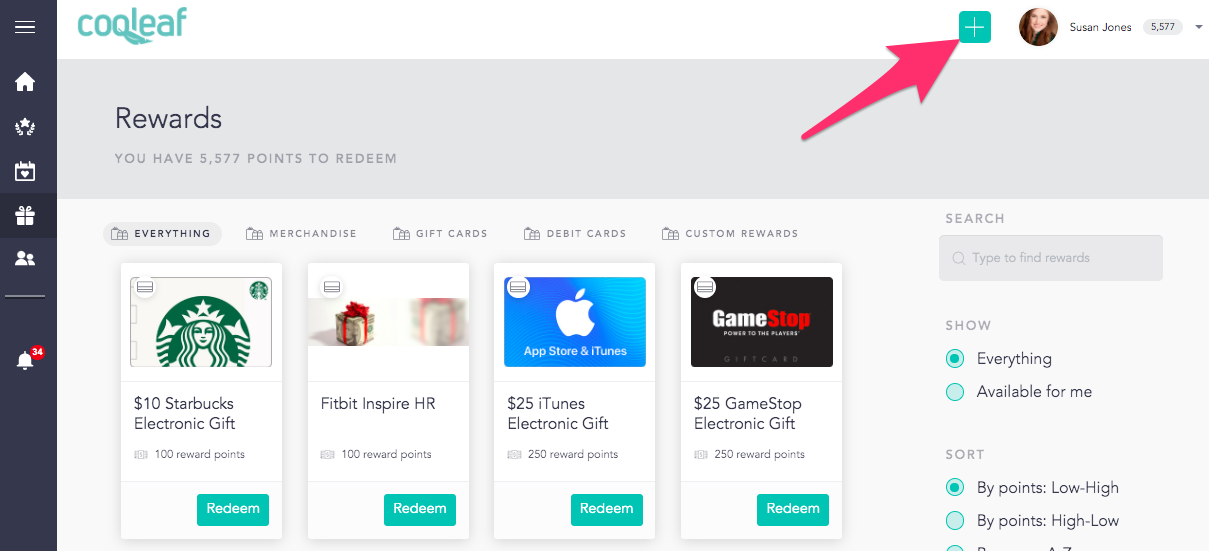 ---
Find the person you'd like to recognize
In the pop-up box, start by typing the name of the person you'd like to recognize. You can also search for an entire team to recognize, such as the sales team or marketing team.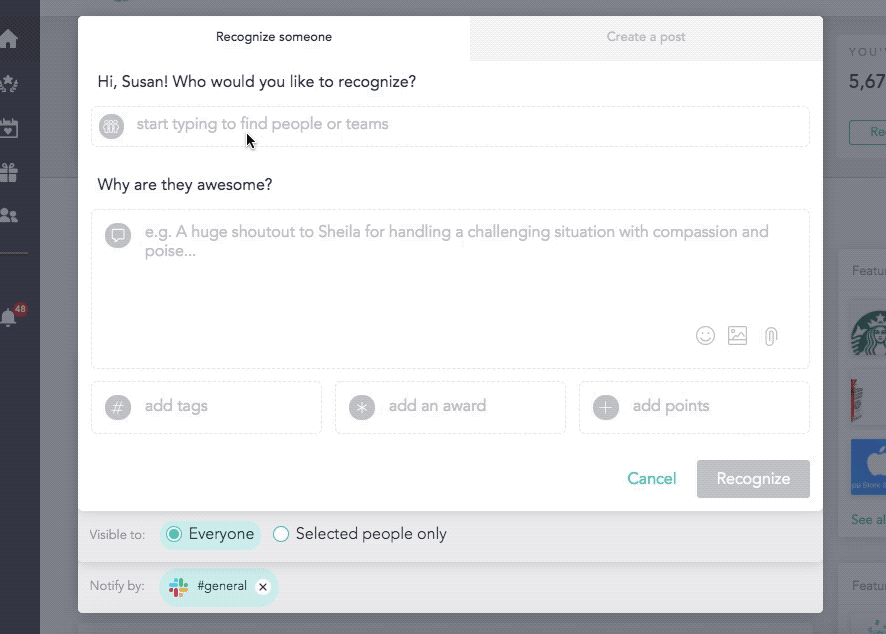 ---
Add a description
Next, tell us why this person is awesome! Be as specific as possible. You can also include emojis, pictures, or even a GIF.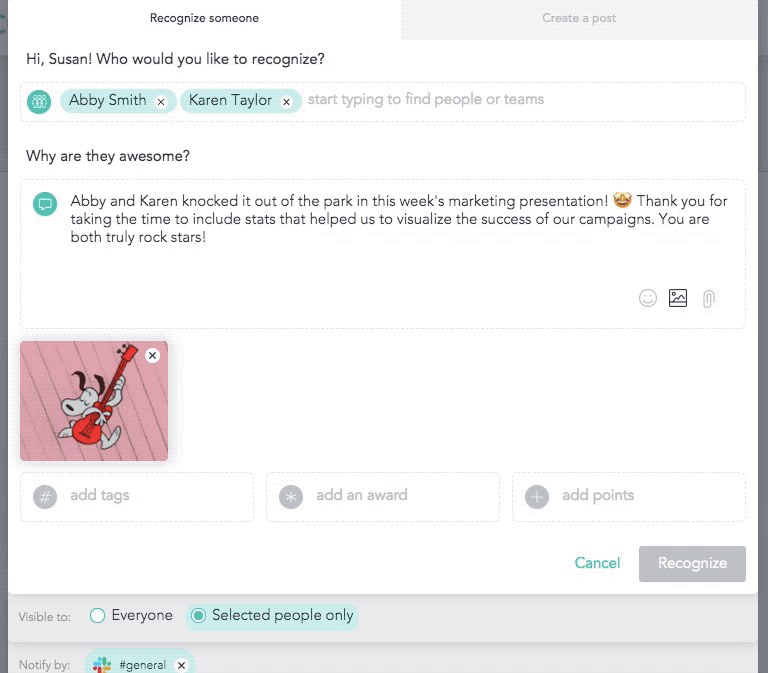 ---
Add a tag
Pick a tag. Tags usually match your organization's values. A tag is required for every recognition.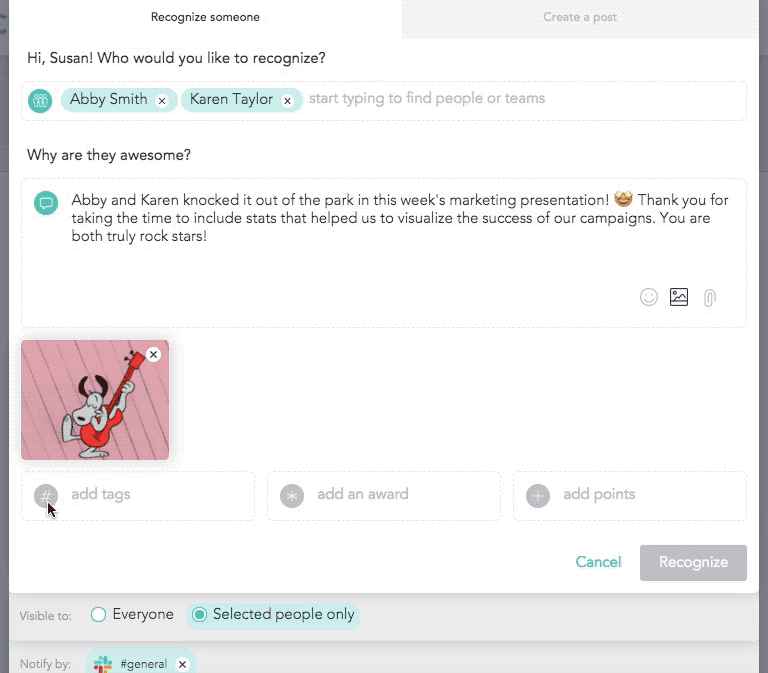 If you are a manager or Admin, you will see additional icons: award and points. Click the award icon to add an award to your recognition. If there are points associated with this award, the points will automatically populate in the "add points" box.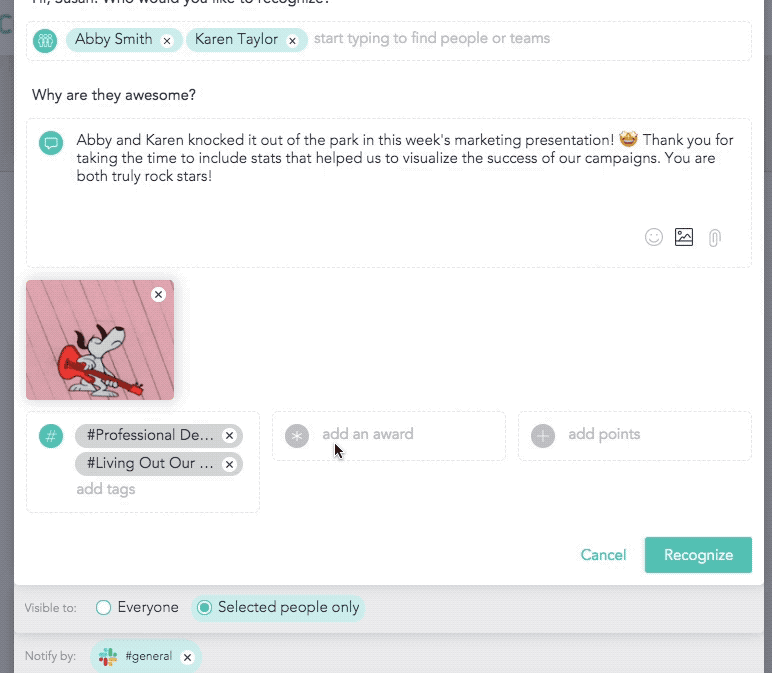 ---
Determine who should see this recognition
We recommend posting recognitions publicly, so that everyone in your organization can see those wins! But sometimes, you might want to keep a recognition private.
To recognize someone privately, click 'Selected people only'. This means that your recognition will only be shown to the person you're recognizing (and anyone mentioned).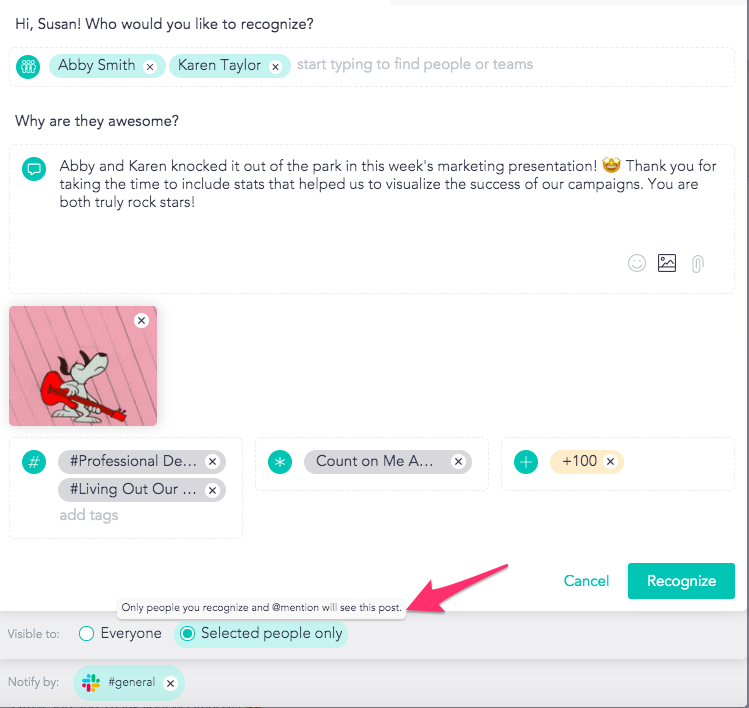 If your organization has Slack, MS Teams, Google Chat, or Facebook Workplace enabled, you'll see an icon at the bottom of your recognition next to 'Notify by.' This icon means that your recognition will be automatically posted within this communication channel. If you don't want your recognition to show up in that channel, you can click the small 'x' to disable this.
Click 'Recognize!'
The person or people you're recognizing will instantly receive an email notifying them that they've been recognized. 🎉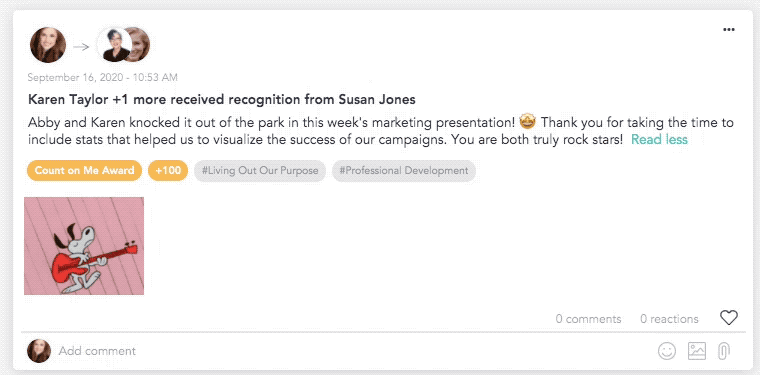 Not sure where to start? Check out our Blog for some helpful tips!
---
---