Cooleaf Integrations (Admin)
Cooleaf seamlessly integrates into a wide variety of communication and business tools, allowing you to simplify your employee engagement and recognize your team for system-driven behaviors. To see a list of integrations, go to the Manage view and click on the Integrations tab.

Facebook Workplace
With our Facebook Workplace integration, you can push content from a Cooleaf post or recognition directly into your Facebook Workplace group. To share a Cooleaf post on Facebook Workplace, simply check the box that says 'Post on Facebook group'.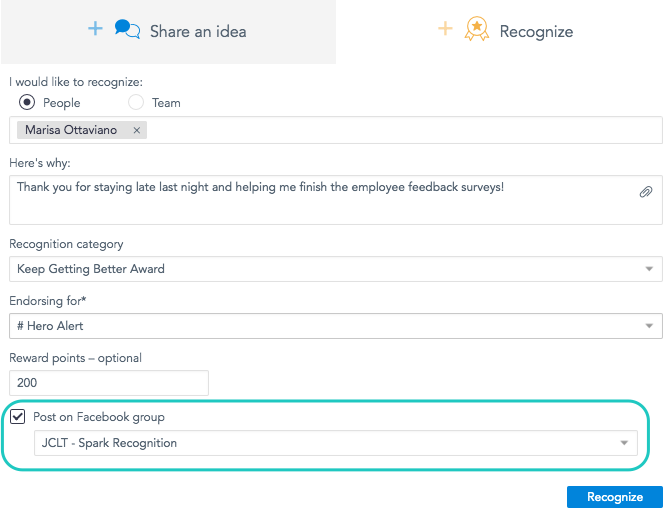 The post will automatically push to your Facebook Workplace group.
Slack
Our Slack integration allows you to push recognitions, posts, and challenges from Cooleaf directly into the Slack channel of your choice. To share a Cooleaf post on Slack, simply check the box that says 'Post on Slack channel'. Then, select the channel you'd like to post to from the dropdown.
The recognition will automatically appear within Slack:

Slackbot
Slackbot is Slack's built-in self service support system. With a simple Slack command, you can 'recognize' a colleague directly from the message box in Slack. Once you've configured the Slackbot integration, follow the steps below to recognize a colleague:
Type '/recognize'
Type '@' followed by the Slack username of the person you'd like to recognize
If you'd like to award reward points, type '+' followed by the amount of reward points you'd like to award (Admin only)
Write your recognition message

Press Enter
Select an interest tag and recognition category, then click 'Confirm Recognition'

The recognition will automatically appear in the main Cooleaf feed: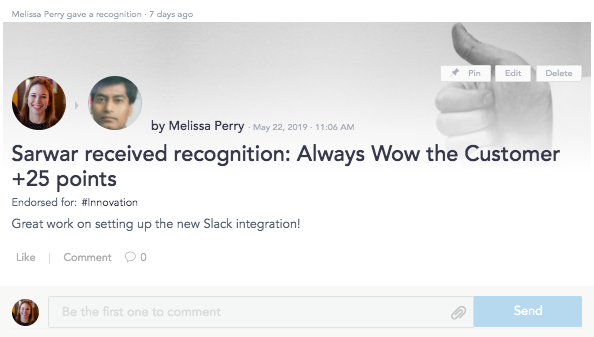 Zapier
Zapier allows you to build workflows between nearly any app, including HubSpot, Trello, Evernote, and thousands more. With the Cooleaf Zapier integration, you can recognize employees for actions in other applications, such as:
Tasks completed in Asana or Trello
Deals closed in HubSpot CRM
Survey completed in SurveyMonkey
Litmos (or other LMS)
All employees need training opportunities to reach their full potential. Learning Management Systems, such as Litmos, allow you to offer flexible online training to your employees.
With our Litmos integration, you can publicly recognize employees for completing specific e-learning courses and even award them reward points for doing so.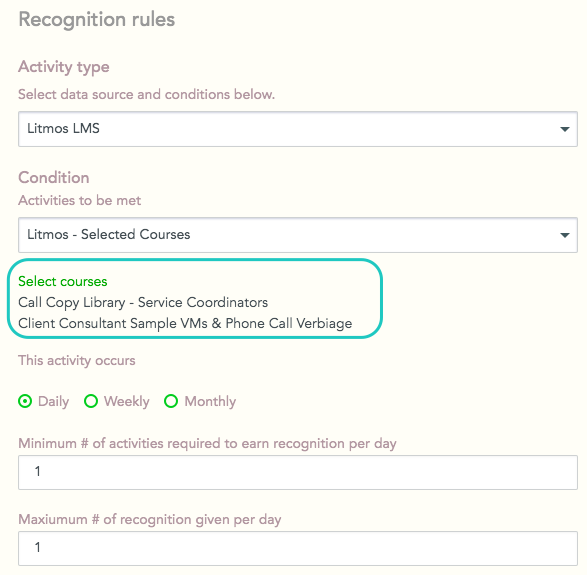 When the employee completes the course, they will automatically receive a Cooleaf recognition: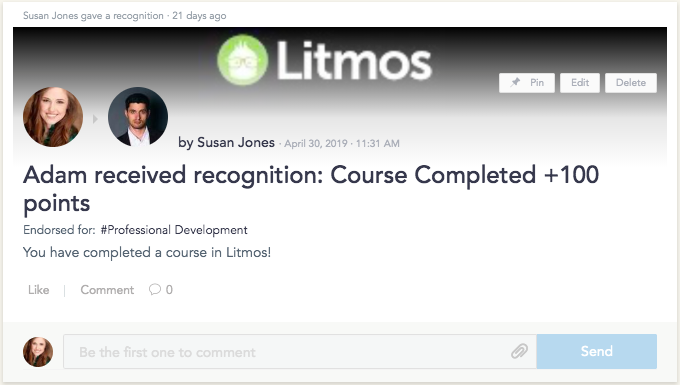 Copper or Salesforce
Cooleaf allows you to to incentivize sales behaviors that boost revenue, gamifying the sales process and motivating your team to engage in key sales activities. You can use Cooleaf to reward activity-based sales efforts such as:
Call attempts
Demos
CRM usage
Referrals gained
Proposals sent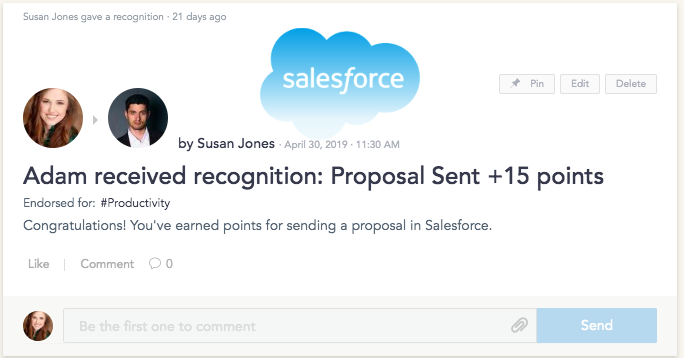 ZenDesk
Keep your customer support team happy and motivated by using Cooleaf to celebrate small wins and big achievements.
Rewards can be team-wide or tied to individual accomplishments. Reinforce the behaviors you want to see, including:
Met daily target of tickets solved
First call resolution rate
Average NPS score
Average call wait time
Average call handle time
Looking for something else?
Ask us how to create simple, data-driven formulas to recognize your people for achieving their goals.
---
---