Discussion Groups
Discussion Groups
Cooleaf's Discussion Groups are a great resource for allowing employees to find other people with shared interests, as well as for organizing topical conversations into one location. Whether you host Employee Resource Groups or Book Clubs, Pet Enthusiasts or Mentoring Opportunities, these Discussion Groups provide a dedicated space for connection and sharing right in your platform.
Create a Discussion Group
To create a Discussion Group, you must have HR Admin or Local Admin permission levels for your platform.
Navigate to your Manager Dashboard via the icon at the bottom of your left navigation bar
If Discussion Groups functionality is enabled for your organization, you will see a Community icon on the left navigation of your Manager Panel. This is where you will manage your Discussion Groups
To create a new Discussion Group, click the "Create New" button in the upper right-hand corner and fill out the name and description of the group.
Once the Discussion Group is created, it will be public for users to view, join, and comment via the Community page of the platform's User Panel, specifically housed within the sub-tab "Discussion Groups".
Track engagement with my Discussion Groups
Within the Community page of your Manager Panel, you will see a list of all active Discussion Groups. This page shows some helpful insights such as:

Coordinator and Creation Date of the Discussion Group
Number of participants who have joined the Discussion Group
Total number of posts
Total number of comments on posts

The Community page of your Manager Panel also allows you a quick way to:

Search for specific Discussion Groups by name in the search bar
Filter the page to view Discussion Groups created by a specific Coordinator

In the Community page of the User Panel:

See a quick snapshot of the Last Activity Date for all Discussion Groups on the Discussion Groups page. The Discussion Groups are listed in order of the most recent activity (whether recently joined participant, recent post, or recent comment) for ease of tracking engagement.
Within each Discussion Group, the newest content floats to the top of the group's feed. Additionally, "Recently Added" and "Recently Commented" visual tags alert you to what content is newest
Search posts within the Discussion Group by Author using the filter option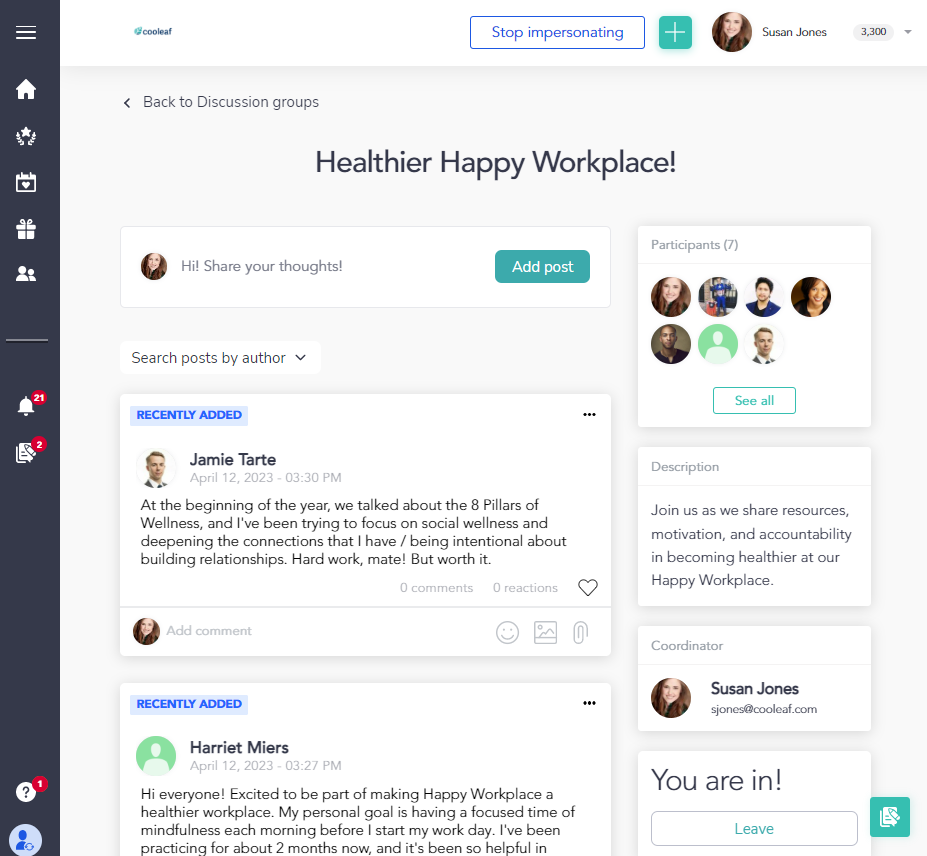 ---
---